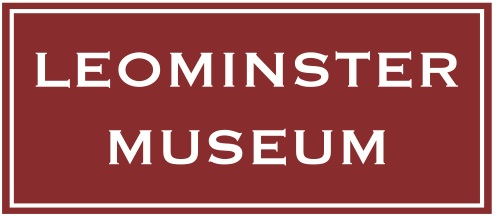 ---
Leominster Museum
AT LAST!
Re-opening for 2021 on Thursday 1st July.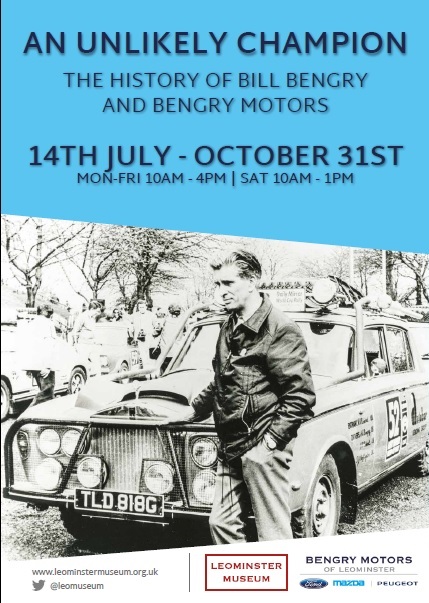 'An Unlikely Champion - A History of Bill Bengry and Bengry Motors'
Our second temporary exhibition in the 2015 season was called 'An Unlikely Champion - A History of Bill Bengry and Bengry Motors'. It told the life story of Bill Bengry, a Leominster man, who was a well known champion rally driver in the 1960s and 1970s, and the history of Bengry Motors, the company he founded.
The exhibition included information panels, albums of archive photos and newspaper cuttings, many of Bill's trophies, rally memorabilia, and a video display of film interviews with Bill, and old cine camera footage of Leominster and of Bengry Motors.
The Exhibition Launch The Visit by Leominster Vintage Club
What Our Visitors Thought
This is a selection of comments that were made about the Bengry exhibition during the season:
"Came to see the exhibition of 'An Unlikely Champion" - a fascinating insight into the motorsporting career and motoring history of this local hero. Excellent!!" K Parry
"As Bengry's customers it is a fascinating story" Pete and Alyia
"Wonderful collection of memories, thank you for sharing them" Angela Lloyd
"Fantastic tribute to an amazing man...taught me to drive!!" Jan Lockett
"Great display, enjoyed my years working for Bill" Debbie Fellowes (Reynolds)
"A fantastic record of a truly amazing life" Mal Perrott
"Great display for a great character!" Graham Quick
"A wonderful exhibition, lots of detail to enjoy. A piece of Leominster's social history" Felicity Norman, Mayor of Leominster.
''Fascinating exhibition, we will send everyone down to have a look" Gill Ding, Leominster Tourist Information Centre.
"A privilege to be a friend of Fan and Bill" Arthur Davies
Thank you everyone for all you kind comments!
The Launch of 'An Unlikely Champion'
On the 14th of July 2015, Bengry Motors and Leominster Museum launched the second exhibition of 2015 at the Museum. Entitled 'An Unlikely Champion', it follows the life of champion rally driver and Leominster man, Bill Bengry, and the story of the company he founded - Bengry Motors. Over 60 people, including the Mayor, Felicity Norman, came to the launch. Arthur Davis, another Leominster man, who remembers Bill well, opened the exhibition, and shared his happiest memories with all of us. It was a great opportunity for those who came to catch up with old friends, laugh at old photos and video clips of themselves, and enjoy a glass of wine.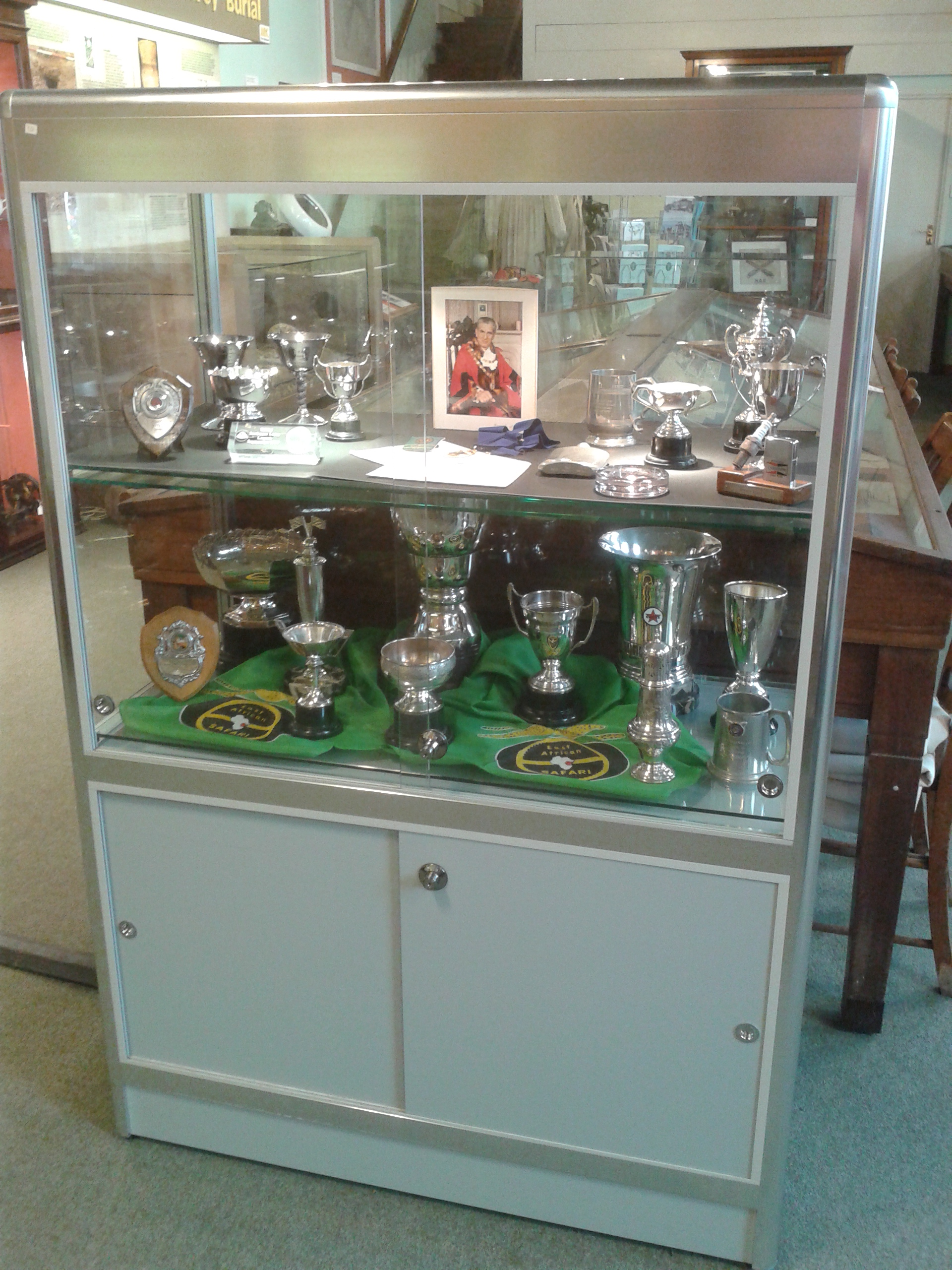 A Selection of Bill Bengry's Trophies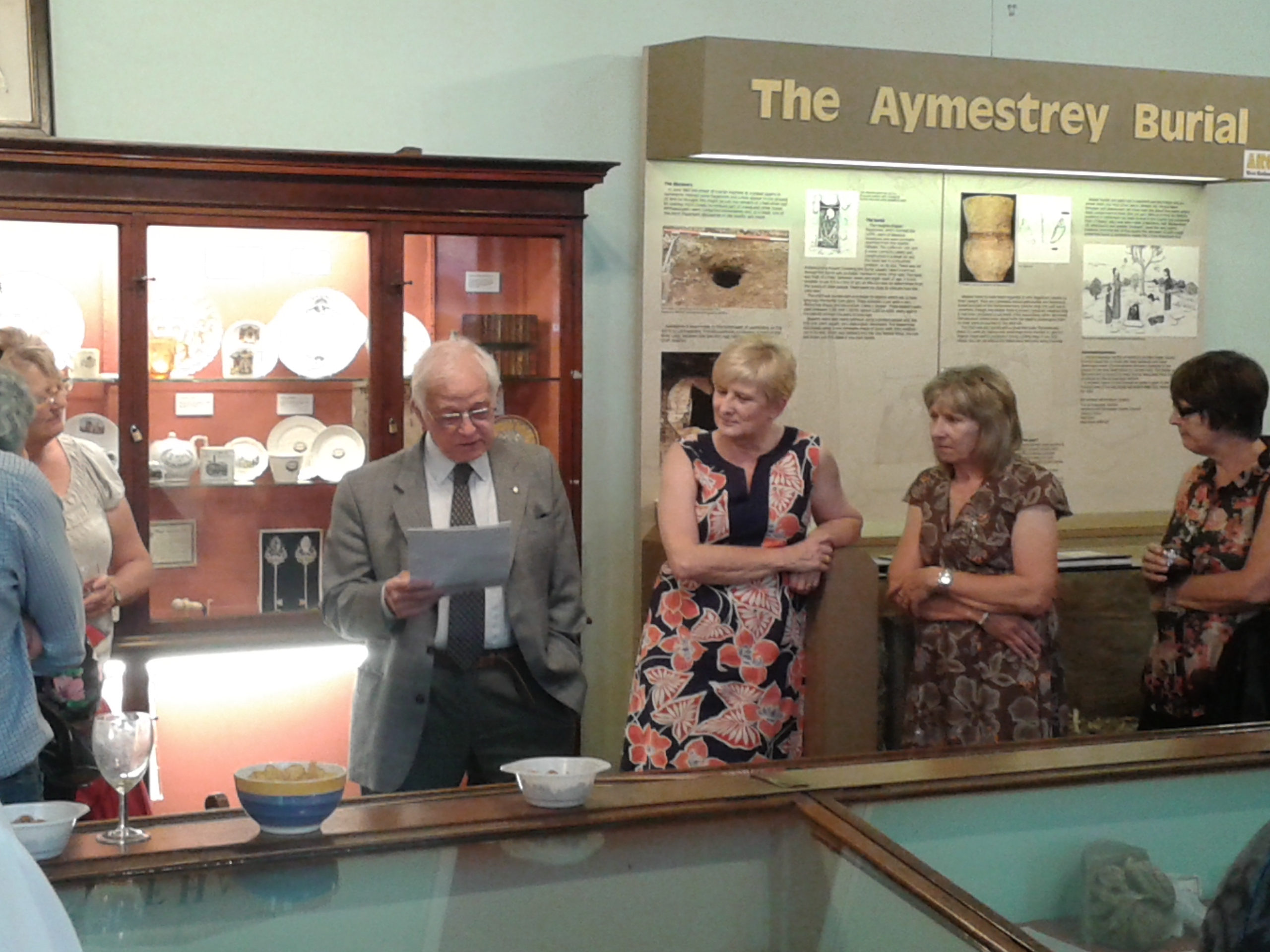 Arthur Davis shares his memories of Bill, while Bill's daughters listen intently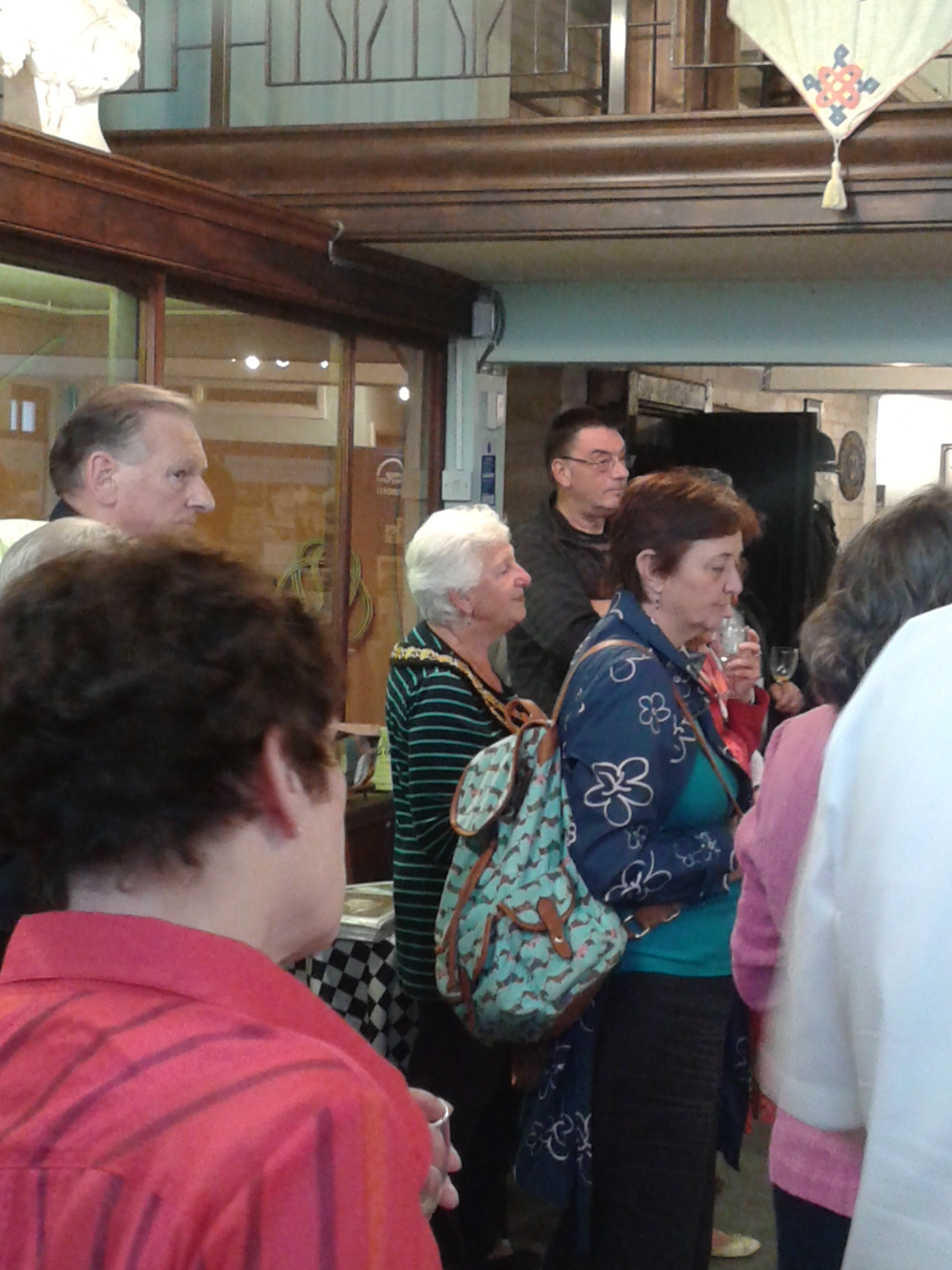 There was a large audience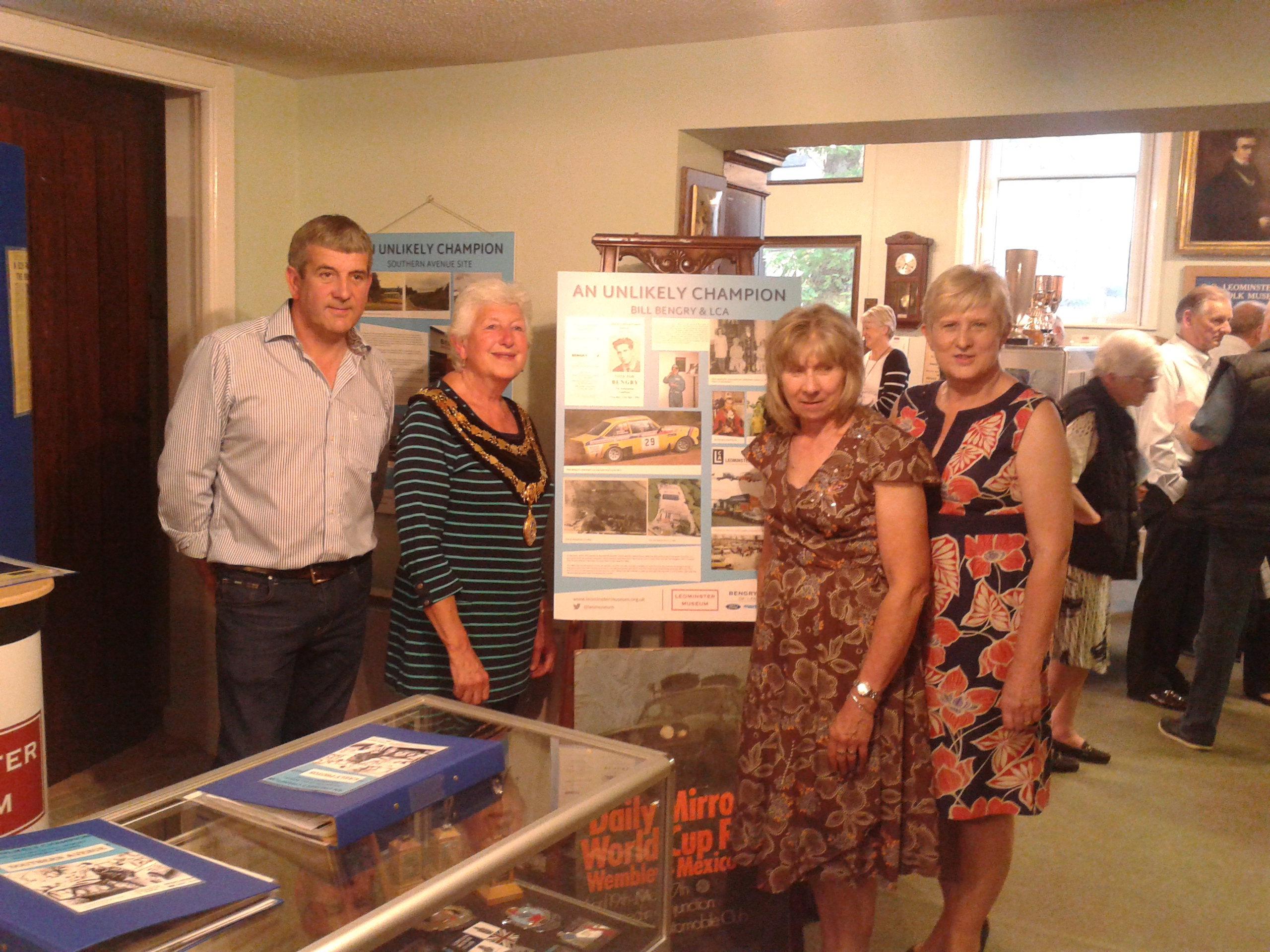 Members of the family with the Mayor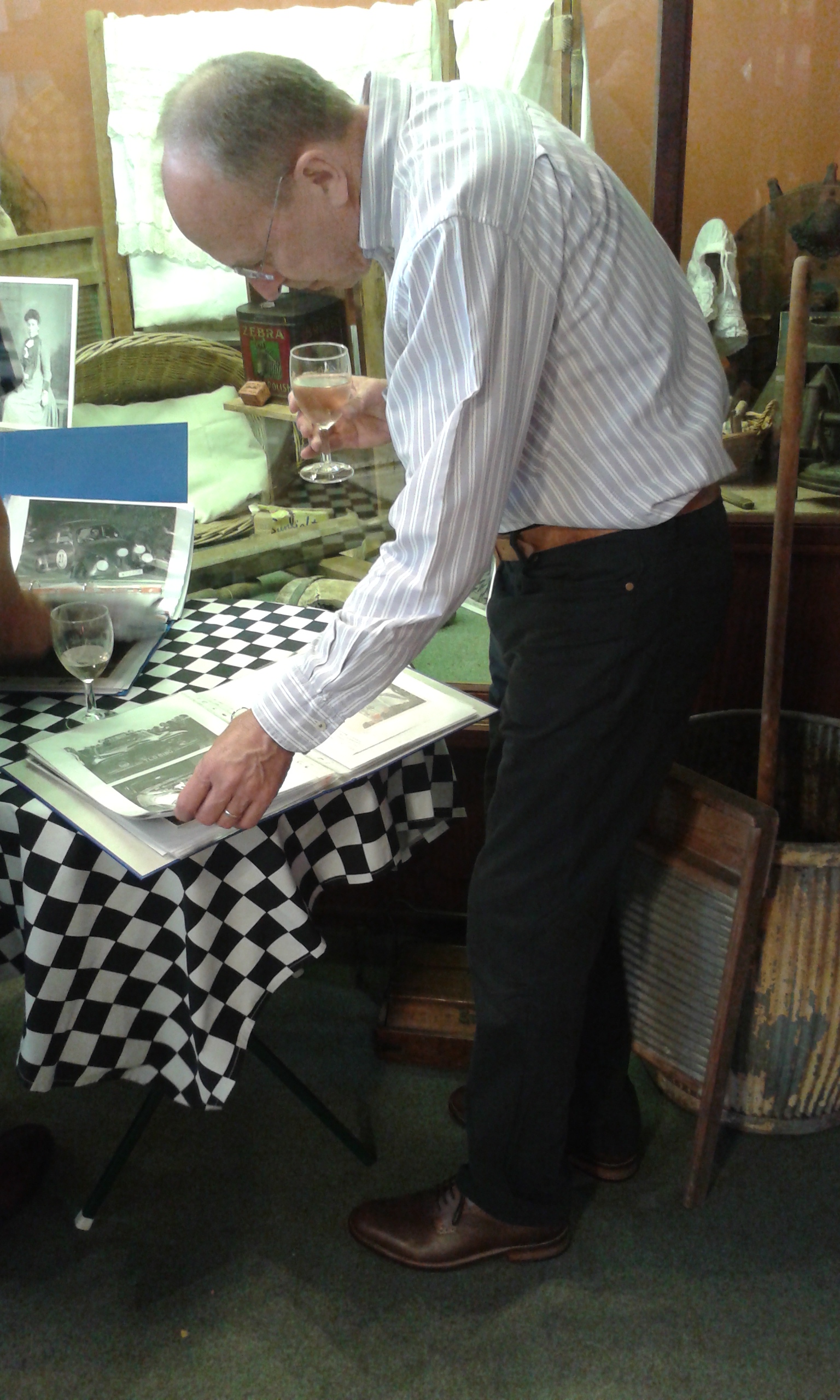 There were many files of cuttings and photos to browse through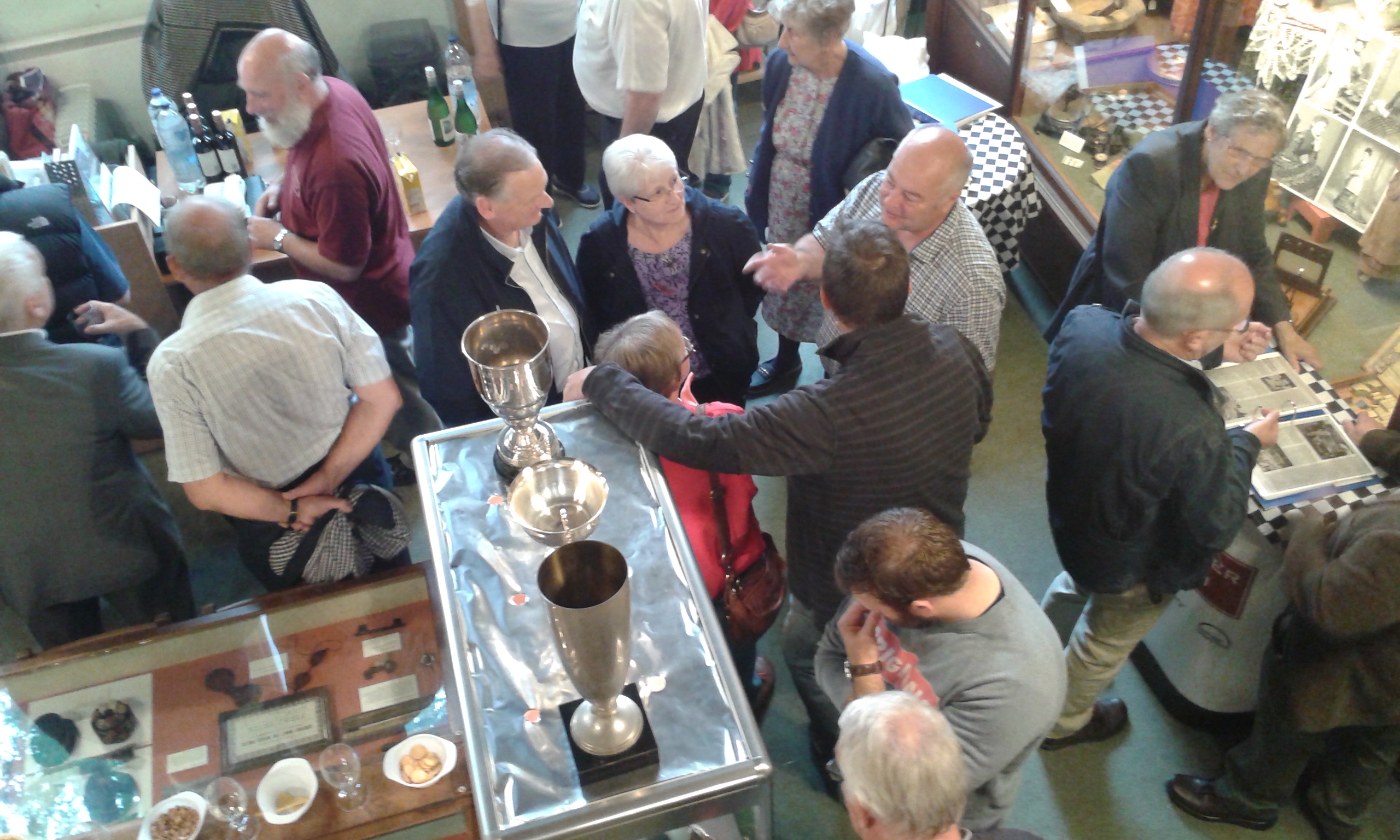 The launch in full swing
Leominster Vintage Club visit the Exhibition
On the 12th of August, Leominster Vintage Club came on a group visit to the Bengry exhibition. Many of them remembered Bill Bengry, and thoroughly enjoyed looking at the panels and books of photos.