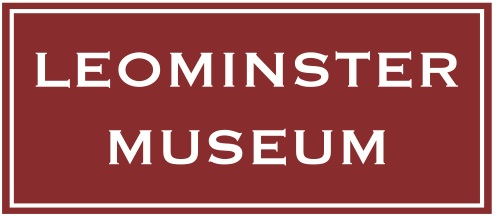 ---
Leominster Museum
2017 Opening Dates: Sat. April 15th to Sat. October 28th
Mon-Fri 10am - 4pm | Sat 10am - 1pm
ADMISSION FREE
The Museum Charity
How the Museum started
In 1970 a visionary group of Leominster people recognised a local desire for a museum to bring together a fascinating range of historically significant objects that were in random individual ownership. They got together to create a charitable trust, to raise money by public subscription to buy and convert what for some decades had been a motorcycle repair workshop; the building had originally been built in 1855 as a Mission Hall by Quakers concerned for the well-being and spiritual needs of the town, not least with the advent of the large community of navvies building the local railways.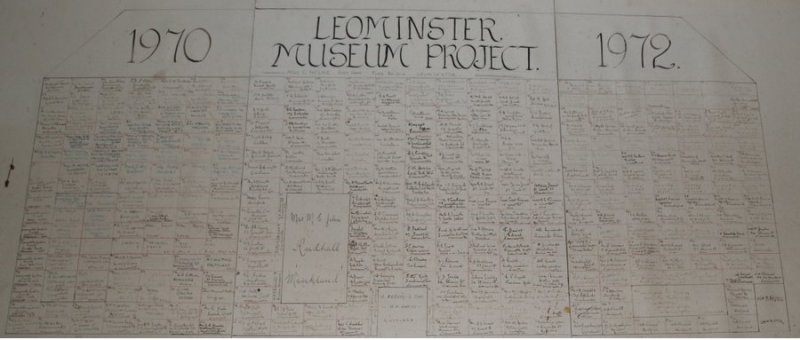 When the resultant museum building was opened on 1st April 1972, the names of those who donated to the project were recorded on a board that is now displayed in the Cider House.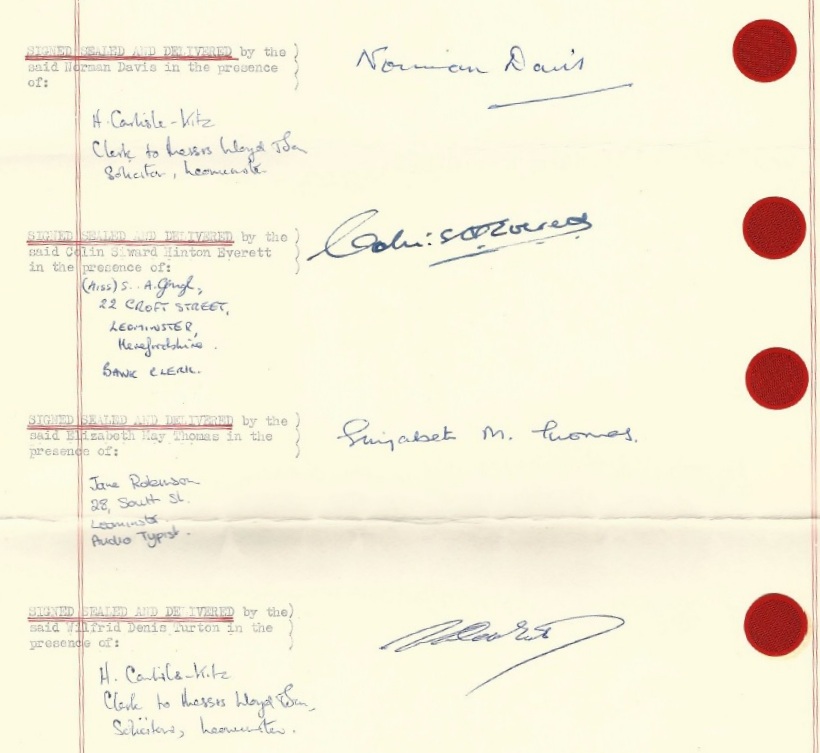 The original Trustees of that charitable trust, whose signatures on the 1970 Trust Deed are shown here, were Norman Davis (a pharmacist), Colin Everett (a bank manager), Elizabeth Thomas (a farmer) and Denis Turton (a solicitor). 46 years on, Elizabeth Thomas is still a trustee, and Denis Turton remained closely associated with the Museum until his death in December 2016 at the age of 97 (see obituary). The Trust Deed provided for a Management Committee to assist the Trustees, whose members were elected each year by a general meeting of local residents.
Modernising the charity structure
For various reasons the decision was taken in 2015 to modernise the legal structure of the charity by converting to become a "charitable incorporated organisation" or CIO. This relatively new form of charity is, like a company, a separate legal entity in its own right - which has several advantages over a charitable trust - but, unlike a charitable company, a CIO brings with it no obligation to comply with company law on top of the requirements of charity law. The legal process for converting from one form to the other involved forming the CIO while the original trust was still operating; and then winding up the original trust and transferring all its assets to the CIO.
Leominster Museum CIO was incorporated in July 2015 - you can download a copy of its Constitution here. Detailed preparations for the CIO to take the Museum over from the original charitable trust were time-consuming, but eventually it was possible to start the first fomal step in the hand-over process by convening a public general meeting of local residents, held on 14th March 2016, to pass a resolution to wind up the trust. The resolution was passed without opposition (and as far as could be judged unanimously) by a very well-attended meeting. This cleared the way for the Trustees to sign a legal "Vesting Declaration" which passed all the charitable trust's assets over to the CIO, and which took effect on 18th March 2016. On completion of the Vesting Declaration the 1970 charitable trust, which had served the town well, ceased to have any assets and effectively ceased to exist; it was removed from the register of charities on 7th May 2016.
Workings of the new CIO
One new feature of the CIO's Constitution, compared to the 1970 Trust Deed, is that it does not restrict voting rights by reference to where people live. Rather it allows anyone who is interested in furthering the purposes of the Museum to register as a voting member of the CIO, with the right to vote on the election of charity trustees and other matters. We wanted to encourage as many people as possible to be members, so we set a very low annual membership fee for ordinary voting membership. At the same time our traditional Friends scheme continues; Friends are automatically voting members of the CIO without needing to pay a separate membership fee, and we hope to organise occasional events of interest to Friends as a mark of appreciation for their support.
Annual membership subscriptions, payable on joining and in January each year afterwards, are as follows. (These are minimum rates - many have generously continued to give more than the minimum each year, and naturally we would be extremely grateful for anything that anyone is able to donate above the basic figure.)
Ordinary voting membership £3 per person
Personal Friends membership £15 for an individual, or £20 for two people at the same address
Business Friends membership £50
Application forms to become a Friend or an Ordinary Voting Member are available from the Downloads page.
Our charity trustees
The charity trustees of Leominster Museum CIO, are listed below; the list as it stood following the transfer to the new CIO mirrored the Management Committee of Leominster Museum Trust in the months leading up to its being wound up, so continuity of management was guaranteed despite the change of legal form. Robert Walker resigned as Voluntary Curator and charity trustee in April 2016 through pressure of other commitments; Richard Lello was appointed as a charity trustee and Voluntary Curator in his place at the CIO's first AGM, on 12th May 2016.
Geoffrey Crofts - Chair
Elizabeth Thomas
Glenn Jones
Lesley Brook - Hon. Secretary
Chris Jarman - Hon. Treasurer
Deborah Jarman - Voluntary Education and Outreach Officer
Richard Lello - Voluntary Curator
Malcolm Mason
Felicity Norman - nominated by Herefordshire Council
Pauline Davies - nominated by Leominster Town Council
Peter Ellis - nominated by Leominster Town Council
Suzy Barton.