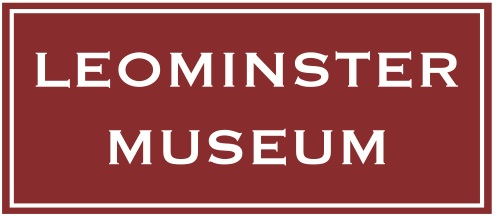 ---
Leominster Museum
AT LAST!
Re-opening for 2021 on Thursday 1st July.
A Very Special Party
On 28th June 2015, the Waterworks Museum in Hereford celebrated a very special anniversary. It was the 150th birthday of the Leominster Water Pumping Station, built in 1865 to bring clean water to the town.
Before the 1860s, most houses in Leominster obtained their water from individual wells in their gardens. Records from the 17th and 18th centuries show that attempts were made to maintain the public wells with new buckets and pump handles. By 1869, there were 444 wells in the town. However, the water in many of them was polluted with sewage. In 1865, 38 people died in an outbreak of typhoid in the town - not the first time this had happened.
In that year, a new well was drilled into an aquifer of clean water (in what is now called Waterworks Lane, near Caswell Road and Leominster Station), and a brick pumping station built above it. The funds to pay for it were raised by Alderman Tertius Southall, the great great uncle of the founder of the Waterworks Museum. The people of the town at last had a source of safe drinking water, and many lives were saved as a result.
Noel Meeke, Chairman of the Waterworks Museum Trustees, with the Mayor and her Consort, in front of the restored Pumping Station
By the 1990s, the pumping station was no longer in use. It had become derelict, and was threatened with demolition. Luckily, it was rescued by the Trustees of the Waterworks Museum, salvaged, transported & re-erected at their Museum in Hereford, where it now forms part of their display space.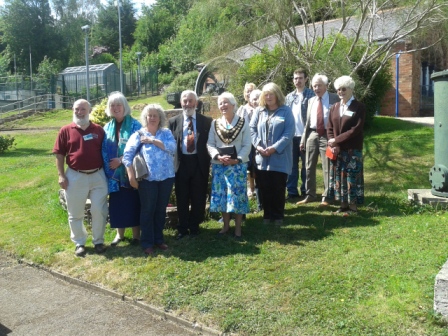 The Mayor and other representatives from Leominster
The Mayor of Leominster, Councillor Felicity Norman, and her husband, Peter Blench, were invited to a celebration at the Waterworks Museum. After introductory speeches, the Mayor unveiled a new plaque commemorating the anniversary before being taken on a tour of the Museum, and entertained to tea. They were joined by three volunteers from Leominster Museum, two representatives from Leominster Historical Society, and two from the town's Civic Society, who helped to represent the town.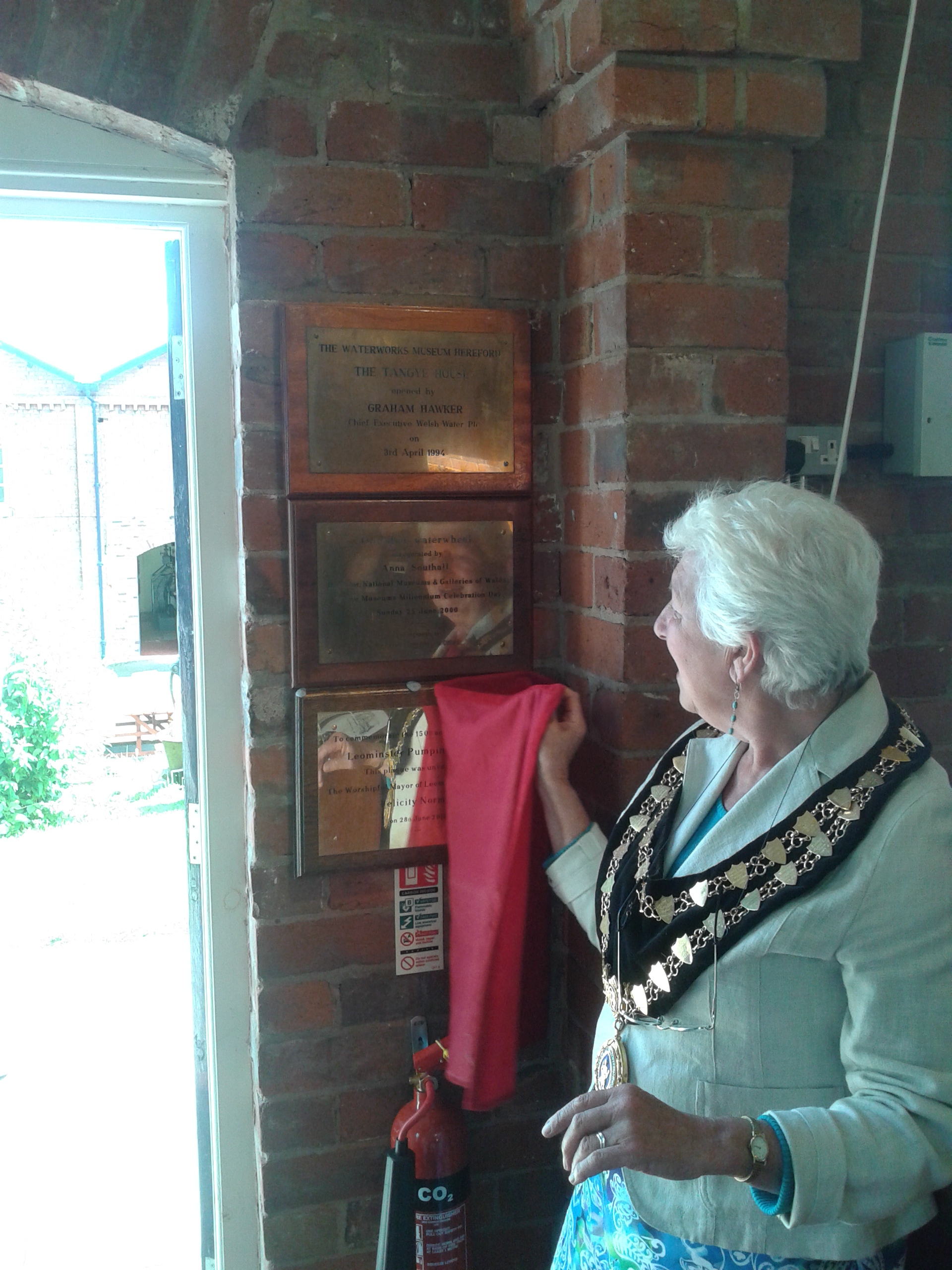 The Mayor unveils the plaque
Thank you to everyone at the Waterworks Museum for their kindness and hospitality on the day, and for all the work you did in the past to save such an important part of Leominster's history!! We should never forget how many people worked hard in the past to bring us amenities such as clean water, which we now so often take for granted.
Read the Waterworks Museum's commemorative news sheet for the day: